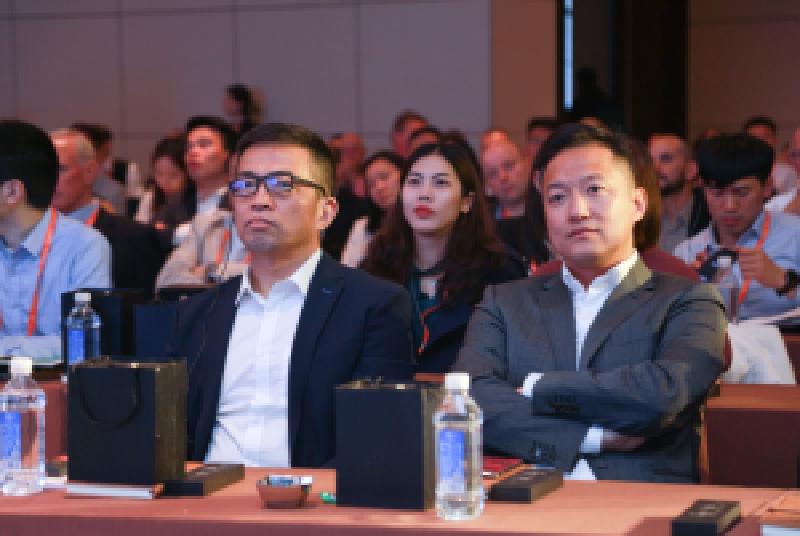 December 4, 2018
PMA Fresh Connections China 2018 Recap: China Market Primed for a "Golden Era"
"I see tremendous potential in China for varieties that are hard to grow," said Peter Zhu, head of the international procurement division for Chinese fruit retailer Pagoda, speaking at the 6th annual Produce Marketing Association (PMA) Fresh Connections: China conference held on March 21 in Shenzhen.
He explained to a packed room of more than 220 fruit industry leaders from around the world that he recently has been spending effort seeking out varieties of fruit with counterintuitive characteristics such as low yield, and difficulty of transport. The payoff for a lot of time and energy pursuing products which will often ultimately not be viable? Occasionally he is able to bring to his shops a product which is, "new, unique and tasty," and for which consumers in China, who increasingly crave high quality and unique experiences, will pay a premium.
"As an overall China policy, the government is trying to increase the imports of fresh produce long-term, so that's really good news for international producers,"
The opportunity to walk away with these sorts of insights into the complex and fast-changing China fresh fruit market is a major draw for Fresh Connections: China, which features a full day of speakers, panel discussions and networking breaks, and has almost doubled in attendance since its inception. Traditionally held in Shanghai, Fresh Connections: China was this year held for the first time in Shenzhen.
"We really focus on quality, which means having great speakers, spending a lot of time researching topics, and making sure it's a good experience for the participants," says Richard Owen, PMA Vice President for Global Membership and Engagement, speaking about how the education-focused event, which is PMA's flagship event in Asia, has become a top draw for premium international suppliers  and top Chinese importers, distributors, retailers and ecommerce companies. "Our aim is that they can walk away not only with connections to other key players, but also in-depth knowledge."
The 2018 edition of Fresh Connections: China was opened by Cathy Burns, CEO of PMA with a "State of the Industry" overview and capped with the excellent "Thinking like a Global CEO" panel, moderated by Burns and featuring The Giumarra Companies President Tim Riley, Mission Produce President Steve Barnard, Sun World Executive Vice President David Marguleas, and Nature's Pride Commercial Director Adrielle Dankier.
Following are a few of the topics that came up repeatedly over the course of the 2018 Fresh Connections: China conference.
TECHNOLOGY, TECHNOLOGY, TECHNOLOGY
As the fresh produce industry integrates new technologies throughout the supply chain, China has emerged as a leader in some key areas, especially technologies that reduce friction points for the consumer such as mobile payments (with an estimated 94% penetration rate in first tier cities), app-based food delivery and, a big buzzword in China right now, "O2O," or online-to-offline—which describes a range of technologies and strategies for using internet-based tools to facilitate brick-and-mortar sales, and vice versa.
"In the past the retailer didn't know who is buying, but now with O2O all the data will be stored by the company, and the company can drive the offline retail business," said Mike Li, Procurement Director for fresh fruits and vegetables at JD Fresh, an arm of Chinese ecommerce giant JD.com.
A trend that received a lot of attention at this year's Fresh Connections: China are the large investments by Chinese tech firms such as JD, Alibaba Group and Tencent into many areas of the fresh produce and retail industries.
Mike Li spoke as part of a panel discussion, "The Future of Retail and E-tail in China," alongside Eric Li, Vice President for Global Sourcing and Alliance of Yiguo.com, which bills itself as China's first fresh food ecommerce company. Last year, the company received $300 million of funding from Alibaba Group. In addition to its original fresh fruit e-commerce platform, Yiguo Group now operates cold logistics and procurement/supply chain divisions.
With so much investment, M&A activity, strategic cooperation, expansion into new industry segments, and other business activity affecting the fresh industry in China, the detailed explanations and organizational charts presented by speakers at Fresh Connections: China allowed international participants to get a firmer grasp on the major industry players, industry structure, and new developments—especially in relation to the technology companies.
Of course, as a summit of global leaders in the fresh produce industry, discussions of technology were not limited to what's happening in China. Ed Treacy, PMA Vice President for Supply Chain Efficiencies and Dan Sun, President of HarvestMark (China) presented "Exploring the Power of Blockchain Technology," with a concise overview of blockchain technology and update on how it is being trialed and applied in the fresh produce industry.
Treacy also highlighted to the many PMA members in the audience how the organization is participating in some of the pilot blockchain projects being run by IBM in partnership with a broad spectrum of companies, including Walmart, Wegmans, Kroger, Dole and Driscoll's. He said that PMA's goals included making sure that blockchain solutions produced by IBM won't require suppliers to completely overhaul their existing systems and business standards, and that they will be accessible and implementable by businesses of all types and sizes, not just the major industry players with large IT budgets. "We want to be a voice in helping industry figure stuff like this out," said Treacy.
RISING FRUIT IMPORTS AND CHALLENGES FOR CHINA'S DOMESTIC FRUIT INDUSTRY
"As an overall China policy, the government is trying to increase the imports of fresh produce long-term, so that's really good news for international producers," said Eric Li of Yiguo.com. During an extensive domestic market overview, China Fruit Marketing Association President Lu Fangxiao also noted that since 2010, when China was exporting more fruit than it was importing, imports and exports became roughly equal for several years, and now China is importing more fresh fruit that is it exporting, both by volume and value. "Chinese fruit's price advantage in export markets has weakened, and domestic consumers' demand for premium and safe fruit from outside China has grown," said Lu.
Several speakers pointed out that the Chinese fruit industry has found itself structurally misaligned with market demands. China is producing large volumes of commodity-grade fruits and fruit varieties that have traditionally been popular in China—for example apples, bananas and melons. But consumption patterns have shifted, with consumers placing more emphasis on higher quality and unique experiences. Consumers do not necessarily prefer imported products over domestically produced products every time, it is just that imports are currently better positioned to match consumer preferences at the premium end of the market.
This is all good news for international suppliers of imported fruit, at least in the short term. Longer term, the picture may be more complex. "I believe there will be increased demand for higher end imported fruits," noted Mau Wah Liu, Chairman of Joy Wing Mau Group. "However, they may face challenges from some high quality domestic competitors." As examples of Chinese producers starting to realign production to match changing demands of domestic customers he cited progress in domestic kiwifruit breeding and production, branded citrus like Chu oranges, table grapes, and increasing domestic production of blueberries and raspberries, which were historically not grown in commercial quantities in China.
He also noted that as market access to China accelerates, international suppliers of some fruits, such as apples, may find themselves facing more competition from other imports from different regions.
Overall, both Lu and Liu predicted that rising standards of living and changing consumer trends are setting up China's fruit market for a "golden era" of growth and development over the next decade—with bright opportunities for both international and domestic producers who can overcome key challenges and adapt to consumers' demand for differentiated and high-quality fruit. "If you have good products, price is not a problem," said Liu "The middle class is willing to play a premium price for premium quality products."
LOCAL PRODUCTION AND BRAND-BUILDING
A greater number of international producers have seen the virtue of moving production inside of China, where they can be closer to the end consumer and avoid the challenges of import and quarantine inspection.
One such company is Driscoll's, which now produces blueberries and raspberries in China's Yunnan province.
According to Jae Chun, Vice President and General Manager of Asia Pacific for Driscoll's (China), at the end of the day consumers simply, "want a better berry, and that's something we think we can bring to the Chinese market by producing locally."
As an example of the success that Driscoll's has seen with its domestic production, Chun showed photos of imported Driscoll's blueberries and Yunnan, China-produced Driscoll's blueberries being sold by a retailer on the same shelf, but at different times. The China produced Driscoll's berries were being sold at three times the price. "To be honest, speaking for myself, I was quite surprised," said Chun. "I didn't expect that."
But for most companies, getting production going in China will mostly likely involve a steep learning curve, a lot of patience, and what Chun termed, "fast learning and the ability to adapt." According to Chun, "it took us almost three years from first breaking ground to having a product that we thought was worthy of putting our brand on and selling into the market."
A frequent topic during the event was the advantage of having a strong brand in the Chinese market, and how much more work still needs to be done by the fruit industry on building up strong fruit brands in China. One positive on this front was learning more about Mr. Avocado, a Chinese joint venture from Mission Produce, Lantao and Pagoda. Though Mr. Avocado is using imported avocados supplied by Mission, it is a leader in avocado ripening in China, and has therefore been able to supply local consumers with a very consistent and quality avocado while simultaneously building up a brand that is tailored to resonate with local consumers. This edition of Fresh Connections: China was also host to the signing ceremony among Mission, Lantao and Pagoda for a new ripening center that will be constructed to cover southern China.
Another smart branding concept in the exploding China avocado market was on display at the Shanghai Supafresh sponsor table. Its Bravocado brand is a three-pack of avocados, one labeled with a sticker showing it is 30% ripe, another 60% and another 90%. This allows consumers in China to skip the guesswork, grab a pack, and then consume it over the course of several days as each fruit ripens.
ATTENDEES' REACTION
About half of the delegates chose to participate in optional events on Tuesday, including an afternoon firsthand tour of upscale 'new retail' supermarket concepts from Alibaba group with its Hema brand and Yonghui with its Super Species brand, as well as a visit to one of China's more than 2,000 Pagoda retail fruit shops.
Raul Romero, President and COO of Chestnut Hill Farms, a producer of Costa Rican pineapples, chose to attend both the retail tour and the full-day conference. Chestnut Hill Farms shipped a small amount of pineapple to China last year after Costa Rican pineapples gained market access. He and the company's Director of International Sales Adriana Garcia this year chose to travel to mainland China for the first time to explore further opportunities here, and to make Fresh Connections: China part of the process.
"We've been members of PMA for many years, and we've seen how effective their venues are," says Romero, who has been a longtime exhibitor at PMA Fresh Summit in the US. "I think that we got a good glance at the quality expectations that the market is looking for, and is willing to pay for, as long as the product meets those expectations." Romero also said that the event was an effective way to learn about, "how the market is structured, and how advanced it is in certain aspects—more so than some of the other markets we are currently in—especially in terms of online ordering and home delivery. Very impressive."
The presence of attendees like Chestnut Hill Farms matches an overall trend observed by PMA's Richard Owen. "Among the international attendees this year, we're seeing people from more different places, and people that are more ready to do business in both directions," says Owen. "Chinese companies that are saying, 'we've done exploration, we're now looking for active partners,' and suppliers that are ready to find Chinese partners. A few years ago, people were only interested to learn about the market. Now there's so many success stories that people are realizing if they wait much longer they're going to miss the opportunity."